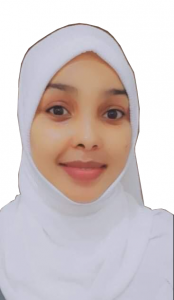 Underlining opportunities for business in Africa and strategies to succeed in the
world's next big growth market
Africa's potential as a growth market for business remains both underestimated and misunderstood—as does the potential for business to play a transformative role in solving the continent's biggest challenges. Consider one question: How many companies in Africa earn annual revenues of $1 billion or more? Most global executives and academics we
speak with guess there are fewer than a hundred. Many answer "zero." The reality? More than 400 such companies exist—and they are, on average, both faster growing and more profitable than their global peers.
Africa's fast-growing population and markets present important opportunities for business in an environment of slowing global growth. At the same time, greater innovation and investment from business is essential to meet Africa's unfulfilled demand for goods and services, close the gaps in its infrastructure, create jobs, and decrease poverty. Here, we describe the extent of the African business opportunities in key sectors and suggest steps investors can take to translate that opportunity into profitable, sustainable enterprises.
Africa's current population of around 1.2 billion people is projected to reach 1.7
billion by 2030
Business Opportunities
Africa's real GDP grew at an average annual rate of 5.4 percent in 2000–2010, driven in nearly equal measures by labor force growth and productivity growth. After a slowdown prompted by the shocks of the Arab Spring in 2011 and the collapse of oil prices in 2014, Africa's growth has recovered and its future prospects look buoyant. Two indicators from the World Bank underline the continent's promise.
First, of the 10 fastest-growing economies in the world in 2018, six were in Africa— with Ghana at the top of the world ranking. Secondly, in the World Bank's 2019. Doing Business index, five of the 10 most improved countries are in Africa, and one-third of all reforms
recorded globally were in subSaharan Africa.
The economic acceleration and improving business environment are underpinned by five long-term trends, each of which is unlocking transformative growth in key economic sectors.
Opportunity 1. A population that is fast growing and urbanizing
Africa's current population of around 1.2 billion people is projected to reach 1.7 billion by
2030. More than 80 percent of Africa's population growth over the next few decades will occur in cities, making it the fastest-urbanizing region in the world. At the same time, incomes are rising across much of the continent, generating new business opportunities in the consumer market.
[2] In total, we expect annual spending by African consumers and businesses to reach
$6.66 trillion by 2030, up from $4 trillion in 2015. These trends are spurring growing markets in a range of sectors where Africans have unmet needs, including food, beverages, pharmaceuticals, financial services, healthcare, and education.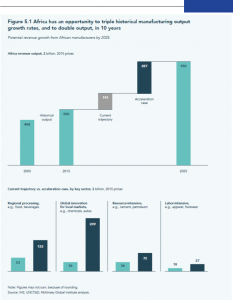 Opportunity 2. Africa is industrializing
An African industrial revolution is underway as manufacturers ramp up production of everything from processed food to automobiles. [3] We calculate that African industries have the opportunity to double production to nearly $1 trillion within a decade (Figure 5.1).
Three-quarters of that growth is likely to come from manufacturing to substitute imports and meet burgeoning local demand. But there is also an important opportunity to grow manufacturing exports and make Africa the world's next great manufacturing center as industries shift away from China to lower-cost regions. The ongoing revolution among industries without smokestacks,such as tourism,[4] agro-industry, and some information and communications technology-based services, can serve as a development escalator as these industries share three key characteristics of traditional manufacturing—exportability, higher productivity,and high labor intensity.
Opportunity 3. Africa is pushing to close its infrastructure gap
Poor infrastructure is one of the key impediments to investment and growth in Africa. For example, nearly 600 million Africans lack access to the electricity grid. But while Africa's infrastructure still lags behind that of other developing regions, significant progress
has been made: Africa's annual investment in infrastructure has doubled to around $80 billion a year since the beginning of this century. That represents a big opportunity for investors and entrepreneurs with the imagination to help solve Africa's infrastructure challenges.
Opportunity 4. Innovations to unleash agricultural and resource wealth
Africa has long been known for its resource abundance in both agriculture and mineral
resources. To date, though, Africa has struggled to translate these resources into shared wealth and sustained economic development. New innovations and investments promise to change that picture and create exciting growth opportunities for business. For example, in oil and gas, Africa is rich in unexplored, high-potential regions, and the continent has huge unmet demand for energy.
We estimate that the domestic gas market in Africa will grow by 9 percent a year to 2025, by which time the continent could use up to 70 percent of its own gas.
Opportunity 5. The potential of increasing digital and mobile access
Sub-Saharan Africa saw the world's fastest rate of new broadband connections between 2008 and 2015, and mobile data traffic across Africa is expected to increase sevenfold between 2017 and 2022. Africa has more than 120 million active mobile money accounts,
over 50 percent of the global total; this has leapfrogged many people over traditional banking products.
This trend will allow companies to improve productivity, speed up transactions, and access wider markets, and could add $300 billion to the continent's GDP by 2025.
MAPPING THE OPPORTUNITIES ACROSS AFRICA'S DIVERSE COUNTRIES AND CITIES
Africa's 54 countries are diverse in terms of population, development levels, growth rates, and stability. While Nigeria has nearly 190 million people and Ethiopia and Egypt have over 90 million people each, most African nations have populations below 20 million. Likewise, nine countries make up three-quarters of Africa's GDP, and in 2030 three countries will represent almost half of the household consumption on the continent: Nigeria (20 percent),
Egypt (17 percent), and South Africa (11 percent).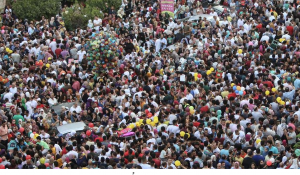 The skin lightening trend
COLUMNIST AYAN ISSE HASSAN
Skin lightening is popular in many parts of the world, including Somalia and the
Middle East. But medical experts say that in Africa a continent where regulations
are often lax or scorned the widening phenomenon is laden with health risks.
Some citizens, for their part, see it as a toxic legacy. Somalia is experiencing a
massive trend of increased use (of skin bleaching), particularly in teenagers
and young adults. It is confusing what has come of the young ladies exchanging
their natural beauty with something artificial. It is said that most girls have
resorted to bleaching to increase social acceptance and increase the chances of
attracting a husband minding less the long-run effect of this practice. The
horror is that we do not know what these things do in high concentrations over
time in the body. You wouldn't expect someone to alter his true identity
because of mere recognition or acceptance. Ladies need to understand there is
nothing bad in maintaining your skin color."
Ingredients in the skin lightening creams may include hydroquinone, steroids, mercury, and
lead; the same element that is poisonous. These chemicals damage respiratory,
kidney, and reproductive systems. They cause cancer, affect the nervous system,
deform unborn babies.
The market is rapidly expanding as business opportunists seek to cash in on the
country's booming youth population. The sprouting new cosmetic kiosks are
visible in the town.
Most African Countries have banned skin bleaching products with high amounts of
hydroquinone and mercury, with the province of KwaZulu-Natal in South Africa
urging people to "reject all colonial notions of beauty".
Those who start using skin lightening say they invariably stay with the practice.
Before you know it, it has become some addiction where you want to maintain
that look. Just like with plastic surgery, it begins to feel like it's never
enough.