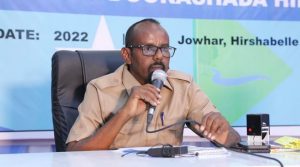 –
Baladweyne The Hirshabelle regional election commission has announced elections for 13 federal parliament seats on Sunday. The vote will be held in Beledweyne, the capital of the Hiiraan region.
Among the 13 seats announced include those held by prominent politicians.
The 13 seats for the upcoming elections in Beledweyne are HOP 003, currently occupied by Mohamud Abdirahman Benebene; HOP 006, by Mohamud Abdullahi Ahmed; HOP 008, held by Dr. Hussein Abdi; HOP 015, held by Hiis Hassan Aden; HOP 022 held by Osman Mohamed Abdi; and HOP 031 currently occupied by Yusuf Hussein Ahmed Gama'idid.
HOP 086 will be the most closely watched electoral race in Beledweyne, as ex-justice minister Farah Sheikh Abdulkadir looks to keep his seat against the former NISA director and Farmajo ally Fahad Yassin Haji Dahir.
25 MPs will be elected from Beledweyne.
While a date has not yet been set, the vote is expected to be held in the coming days.
The announcement by Hirshabelle's electoral commission comes after the Hirshabelle regional administration met with members from the Hiiraan Revolutionary Council on Saturday in an attempt to reconcile.