Zlatan Ibrahimovic, the experienced forward for AC Milan and a Swedish football legend, announced his retirement from the game on Sunday evening at the age of 41.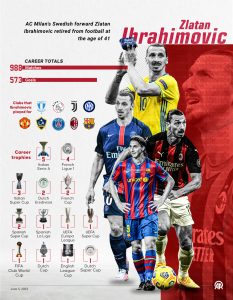 "It's time to say goodbye to football, but not to you," an emotional Ibrahimovic told the San Siro fans in Milan after Milan's 3-1 victory over Hellas Verona on Sunday.
It was "difficult and emotional" for Ibrahimovic to say goodbye to AC Milan, where he had "so many memories."
"The first time I arrived (at AC Milan), you gave me happiness, and the second time, you gave me love," Ibrahimovic remarked, adding that he felt at home during his two stints with the Rossoneri.
"We'll see you later." "Forza Milan and farewell," Ibrahimovic stated, thanking the team's players, coach, and staff, as well as the fans.
Ibrahimovic has scored 496 goals in 827 club matches for nine clubs, including Paris Saint-Germain (PSG), Juventus, AC Milan, Inter Milan, Manchester United, and Barcelona.
The seasoned attacker scored 156 goals for PSG from 2012 to 2016, his most productive scoring period.
He also became Sweden's all-time best goal scorer with 62 goals in 122 appearances.
Ibrahimovic played for AC Milan from 2010 to 2012, and again from 2020 to 2023, helping the Rossoneri win the Italian Serie A title in 2011 and 2022.
In addition, he won domestic titles with Inter Milan, Barcelona in Spain, PSG in France, and Ajax in the Netherlands.
Ibrahimovic was a Manchester United forward when the English club won the UEFA Europa League in 2017.