Somali Magazine -On the sidelines of the Tokyo International Conference on African Development (TICAD) in Tunis on Saturday, Somali Prime Minister Hamza Abdi Barre met with Japan's Minister of Foreign Affairs, Yoshimasa Hayashi.
Somalia and Japan's connections and cooperation were discussed by Hamza and Hayashi.
Minister Hayashi stated that his administration is eager to improve commerce, security, and political relations, and that they will contribute to Somali development plans.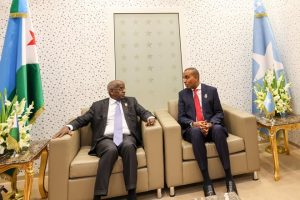 At the Tunis conference forum, the Prime Minister also met with the Prime Minister of the Republic of Djibouti, Mr. Abdoulkader Kamil Mohamed.
According to the Prime Minister's Office, Hamza Abdi Barre and his Djiboutian counterpart talked on bolstering traditional fraternal relations. He praised the Djiboutian government and people for their assistance to the Somali people.