Since 2020, Somali magazines has been conducting annual nominations of the Person of the year from the 100 most influential Somali.
This year's person of the year is H.E Ali Gudlaawe Hussein The President of HIrshabelle State of Somalia. Nominated from the 100 most influential Somali of 2021 in a poll that is conducted on the Somali magazine media platforms.
Somali Magazine is dedicated to equipping opinion leaders with breakthrough ideas and original insights. Its powerful magazine aims to, reach leaders across all sectors, consumer, business, media, and governments. Strategically designed to meet the unique needs of the communities with an innovative portfolio of digital, print, event, social, and video platforms engaging and influential audience of over 10 million worldwide each month.
Somali Magazine Announces the 100 Most influential Somalis of 2021 and the person of the year.For the third year in a row, Somali Magazine has published a list of the 100 most influential Somalis in the year 2021 and the person of the year. More than 1M of voters on Somali magazine's website voted for the 100 most influential Somalis last year, as well as the person of the year elected President of Hirshabelle State H.E Ali Gudlawe Hussein.
In the Category of Politician/ Leaders, according to Somali Magazine, including H.E President Mohamed Abdullahi Farmajo, Former President H.E Hassan Sheikh Mohamud, Former President  H.E Sharif Sheikh Ahmed, The Prime Minister Mohamed Hussein Rooble, Governor of   Benadir   Region, and Mayor of Mogadishu Omar Mohamud Mohamed (Filish) are on the list.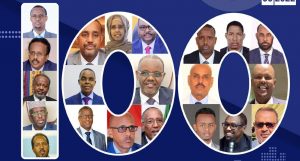 On the business side, President of the Somali Chamber of Commerce Mahamud Abdi Gabeyre, Ismail Abdullahi Siyad (Ismail Gooni), and Ibrahim Nor Hillowly are on the list.
Somali Magazine Director Ridwan Yusuf Haji explained the list and the100 most influential Somalis and individuals of the year. This is the third year that Somali Magazine has published the 100 Most Influential Somali People There are international Journals and Tv's which have published this list as well.