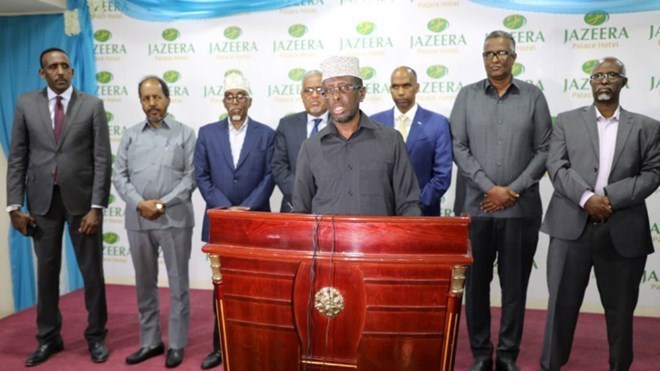 Somali opposition has welcomed the sacking of two senior intelligence officials, calling it a right step in building public trust in state institutions.
"The action taken by the Prime Minister is in the right direction," the Council of Presidential Candidates (CPC), which brings together 15 Presidential candidates, said in a statement.advertisementsPrime Minister Mohamed Roble Friday sacked National Intelligence and Security Agency (NISA) deputy director Abdullahi Kulane and the agency's Head of intelligence at Aden Adde Airport Abdiwahab Ali Friday.
Government spokesperson Mohamed Moalimuu said the two officials were sacked for blocking 'citizens from departing Aden Adde Airport.'
PM Roble had earlier warns state officials against blocking the free movement of people after it emerged some individuals who were travelling to the regions to vie in upcoming elections were being profiled by NISA and barred from travelling.
In their statement Friday, CPC called on Farmaajo to desist from interfering in the electoral process.
"We urge President Mohamed Abdullahi Farmaajo, whose term lapsed, to refrain from abuse of the laws and the electoral processes," the group added.
The sacking of the two NISA officials reportedly sparked a row between Farmaajo and Roble amid reports there was no consultation on the PM's directive.