Members of the Federal Parliament and other notable leaders from Jubbaland State attended a press conference in Mogadishu on Monday to reject the one-year extension of Ahmed Madobe's tenure.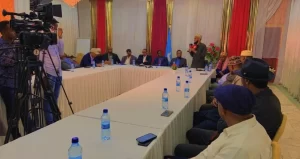 Senator Abdullahi Sheikh Ismail (Fartaag), President Madobe's longtime right hand man and former Vice President of Jubbaland State, was among the lawmakers who fiercely opposed the extension period, calling it unlawful and undesirable.
Senator Fartaag urged Federal President Hassan Sheikh Mohamud to reject the extension period, reminding him of the challenges inherited from former President Farmajo's illegitimate extension period.
I don't expect this illegal extension period made by the Jubaland Parliament will be accepted by the President of the Federal Republic of Somalia Hassan Sheikh Mohamud, who knows very well the challenges illegal extension period brings. Me and the current Federal president Hassan opposed the previous administration over the illegal extension period that put the nation at risk.
SENATOR FARTAAG
On August 21st, the Jubbaland Parliament amended the State constitution and the presidential term, increasing it from four to five years. The Jubbaland state election was scheduled for August 2023.
Other politicians who attended the conference included former Jubbaland Minister of Security Abdirashid Janan, who called the modification unacceptable.
Somali Magazine