17 October 2021 – Liban Hassan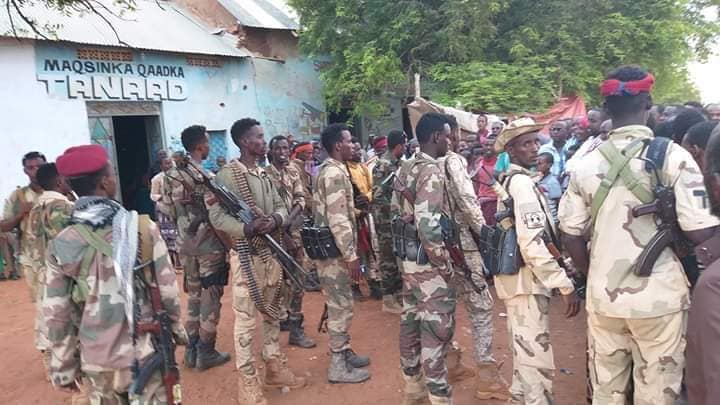 Federal Government forces with the assistance of Galmudug security forces are preparing for a showdown with the forces of Ahlu Sunna Wal Jama'a
Government and Galmudug forces have left El Dhere and are reportedly moving towards Guriel town. The two forces were last night at Tuulo Sadiq, located between Eldhere and Guri'el.
According to our sources, the troops are traveling on the road, they are taking precautions as they move towards Guri'el as these areas are close to where Ahlu Sunna forces amassed, and there is always the possibility of Alhu Sunna forces ambushing them on route.
Whilst the allied forces of Galmudug and the Federal Government a making moves towards Guri'el, Ahlu Sunna forces are mobilizing in Guri'el and its environs, with the aim of defending the town. Ahlu Sunna a forces can also be seen marching in the streets of Guri'el
To reinforce their positions, Ahlu Sunna forces also set up a checkpoint on the road to Guri'el Airport yesterday afternoon, where they are checking vehicles coming from Dhusamareb town.
Recent military movements by both sides have added to the fears of Guri'el residents, most of whom have fled the town. Tensions in the region have been high recently, which lead to business activities in the town coming to a halt.  
On Friday Sheikh Mohamed Shakir Ali Hassan, a senior Ahlu Sunna official in the central region, told local traditional elders that they would not leave the town.
Meanwhile, Abdullahi Abdi Rage, an Ahlu Sunna official, was wounded in a car crash in rural Guri El yesterday.
Abdullahi Abdi is described as an official whose close to Ahlu Sunna Wal Jama'a leader Moalim Mohamud Sheikh Hassan Farah.