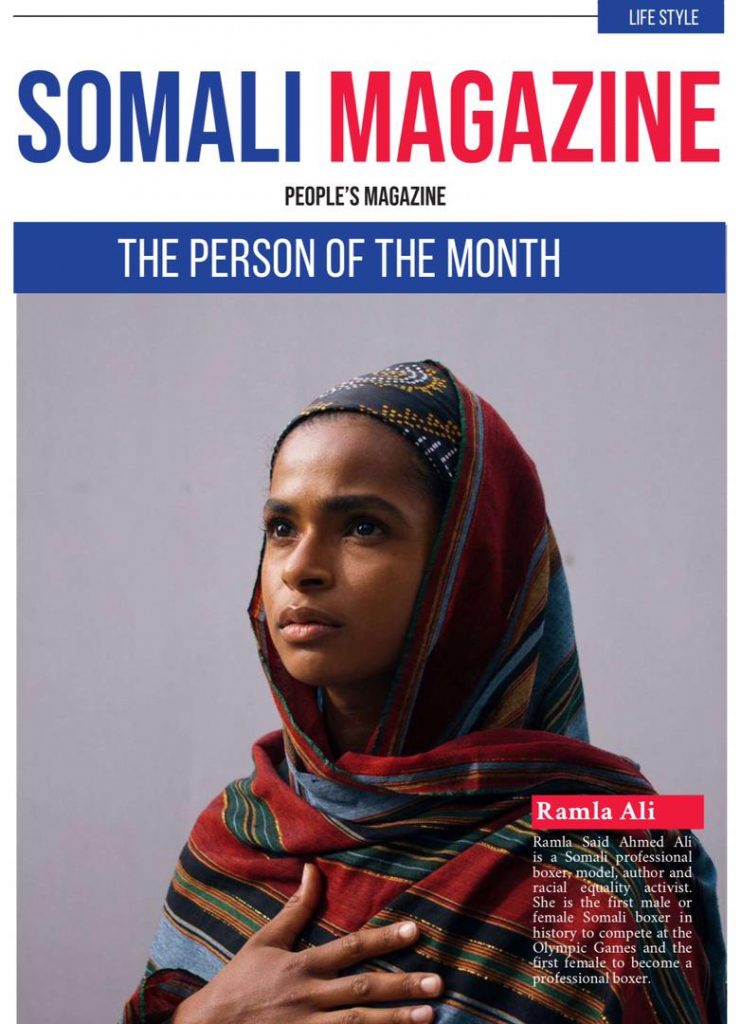 is a Somali professional boxer, model, author, and racial equality activist. She is the first male or female Somali boxer in history to compete at the Olympic Games and the first female to become a professional boxer. As an amateur she won the 2015 Novice national championships in England, the 2016 England Boxing Elite National Championships, the 2016 Great British Championships, and the 2019 African Zone featherweight title. She is the first male or female to have won an African boxing title and international gold medals whilst representing Somalia. She moved to England from Somalia as a war refugee and started boxing as a teenager in an effort to lose weight. She has since helped set up Somalia's boxing federation in Mogadishu and became the first boxer in history to have represented Somalia in the Women's World Championships, which was held in New Delhi, India. In January 2018 Ramla launched The Sisters Club, a charitable initiative focused on creating more spaces for black and ethnic-religious female minorities to participate in sport in the U.K
Represented by IMG Models, Ramla has appeared on the front cover of British Vogue, Wall Street Journal, Financial Times, Guardian Observer, Wonderland, ELLE, The Square Mile, The Week, Beauty Papers, ES Magazine, Swiss Style, M Milenio Magazine, Exit Magazine, and Puss Puss Magazine and been photographed for publications Time Magazine, Spanish Vogue, NY T Magazine, Sunday Times Style, Twin, Times Luxx, Gentlewoman & Conde Nast, She is a global brand ambassador with Nike & Cartier.
Ramla's debut novel 'Not Without A Fight' which is a self-help book based on ten of the most important fights in her life is to be published by Merky Books & Penguin Random House in September 2021 and is currently on pre-order with Waterstones. It has also been announced that Academy Award-nominated, BAFTA-winning producer Lee Magiday alongside Film4 will be making a feature-length drama based on the life story of Ramla Ali. In 2021, she competed in the women's featherweight event at the 2020 Summer Olympics to become the first boxer ever to represent Somalia on the Olympic stage
In 2021 Somalia showcases a new page of the Tokyo 2020 Olympics this year, for the first time Somalia participates in non-athletic sport
Ramla Ali has come against all odds to become the first female Somali boxer at the Olympics. It was not an easy journey for Ramla to reach the Olympics as it was required qualifications.
Although Ramla Ali lost to Romania's maria Nashita by small details but her personality to represent Somalia of this sport will inspire younger people to pursue careers in different parts of the sport,