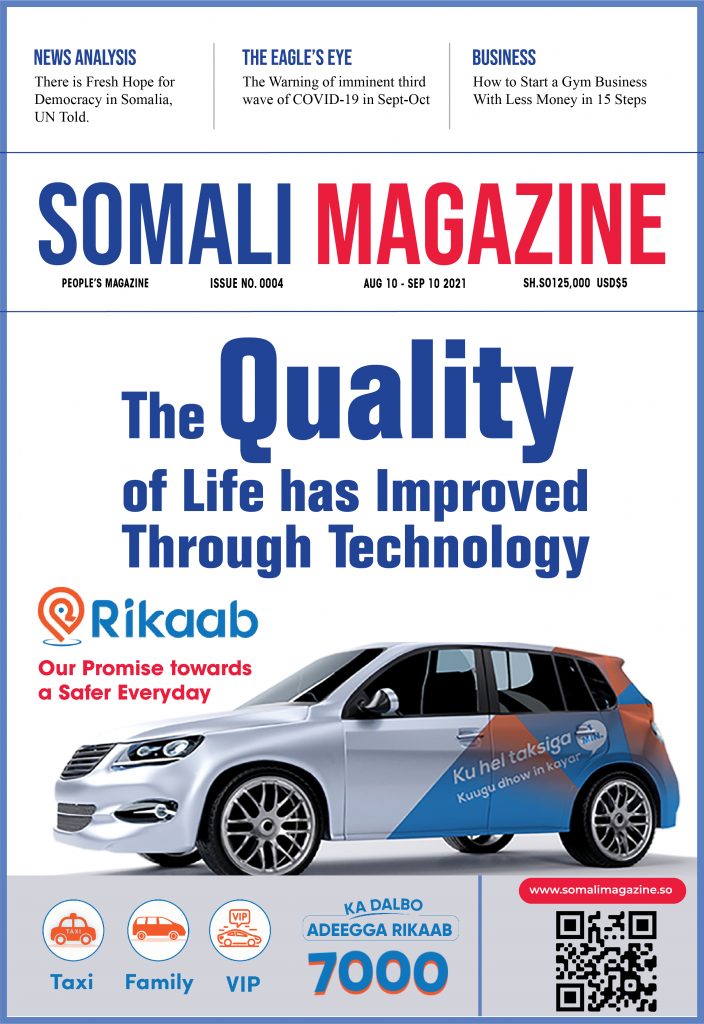 Overview:
Rikaab Taxi is a modern company that connects customers and drivers in the Horn of Africa. We offer a friendly and professional on-demand Taxi service in the Horn of Africa. We aim to get a cab within 10-15 minutes to passengers, especially late at night in Somalia when the public transport system is not as active as during the day. Our prices do not change throughout the day or at night. We offer a very high-quality service which will be appreciated by the Horn of Africa. Our customers have two options to get the nearest available taxi, number one they can book on their phone otherwise they can call call-Centre.
Rikaab Taxi is focusing exclusively on high-quality on-demand taxi booking. As we are committed to providing society safe and cheap Taxi services. Founders of this company have a long experience of working on large taxi companies in Europa, especially mobile operators such as UBER and similar ones.
With Rikaab Taxi you can ask for taxi pick up at any location with the touch of your smartphone. The application conveniently connects you to the nearest driver using GPS technology when you request a pickup. Once a driver picks your request, he immediately notified your location, and with the support of navigation support, the driver can easily find you. Rikaab Taxi is a safe way to pick a taxi since you get the details of the car and driver before a ride. Now available in Somalia cities you can ride safely.
HOW OUR APP WORKS
01) Download & Register
Download the App from your phone's App Store then register from within the App with your email & mobile number. Confirm your registration with the SMS code received.
02) Create A Profile
Create your personal profile, set a picture & other information to complete your profile.
03) Book Your Taxi
Find the nearest Taxi using GPS & the built-in map. Choose the type of Taxi and book for Now or for Later (up-to 48 hours).
04) Booking Confirmation
Within a few seconds, the nearest available driver will receive your booking and you will get a confirmation in the App along with details of the car & driver picking you up as well as the ETA.
05) Your Taxi Arrives
The driver has your GPS location and will arrive shortly. When he arrives, you will receive an alert in the App.
06) Safe Ride
Your driver will now take you to your destination. Once you arrive safely, make a payment and give a review.
Advantages of Using Our App
On Demand Taxi Booking
You have the freedom to book a Taxi on-demand as and when you need it with a couple of taps using our App. Book for an immediate ride or schedule for a future pick-up. It is your choice.
City Wide Coverage
Unlike traditional taxis that usually crowd the city centers while leaving the outskirts empty, our clever technology routes taxis to where they are needed most. That way we cover the whole city and not just the city center.
A Rating System
After each trip, you have the option to rate your driver. This keeps our drivers in check as negative ratings can affect their ability to get rides and in turn, improves overall customer service.
SOS Panic Button
We have taken several measures to ensure that your Taxi ride will be safe & comfortable, but should there ever be a need, there is an emergency panic button built into our App that you can use to silently alert a pre-determined friend or family member instantly.
Convenience 24 Hours A Day
No more uncertainty regarding Taxi availability near you. We can tell where you are booking from & where our Taxis are at all times thanks to our clever technology so dispatching a Taxi is effortless.
Pre-Vetted Drivers
All our drivers have been vetted before they even start driving for us. We check their identity; their driving license & vehicle details so rest assured that your safety is our number one priority. Also, we work closely with local authorities to resolve any disputes.
Fair Pricing
Our efficient technology reduces the driver's idle time, reduces wasted fuel, and gives our drivers the opportunity to get more rides and earn more. This negates the need to haggle about taxi fares.
Several Payment Options
Cash is always accepted when riding our Taxis, however, you can also pay using credit & debit cards in some locations. Mobile wallets such as EVC Plus, Zaad & eDahab are also widely accepted by drivers as a payment option.
A Call Center for Phone Booking
In addition to GPS-based mobile Apps, Rikaab Taxi also has a dedicated Taxi booking call center ready to receive taxi bookings by phone from anyone who does not have our App downloaded to their smartphone. Our call center is open 24 hours a day 7 days a week.
Our phone numbers are non-premium numbers so you won't incur expensive charges when booking by phone. Furthermore, our call centers are each staffed by a dedicated & dynamic team who is ready to serve you.
And, because all our drivers are already equipped with bespoke driver Apps, your phone booking will still get dispatched to the nearest available driver to your location thus eliminating longer waiting time. Our call center is an extension of our overall GPS based Taxi booking system and the two parts work in tandem.
So, whether you are using our smartphone app or a regular phone, you can easily book your Taxi with us –Rikaab Taxi is here to serve & offer great service and our aim is to bring ground transportation to The Horn of Africa to the 21st century. Please see our Cities page to see the call center phone number for each city.
Airports
Book Your Airport Taxi with Rikaab Taxi     
1 – Submit Your Booking
Choose the airport link below & submit your booking request to us.
2 – Get A Confirmation
Once your booking is received, we will contact you and confirm all details with you.
3 – Pick-Up/Drop Off
We will dispatch a taxi to pick you up from the location agreed at the time required.
Reduce the stress of your journey and book your taxi to and from the airport with Rikaab Taxi. We will pick you up from anywhere in the city and drop you off at the airport or pick you up after arrival. We have an Airport Taxi Shuttle service for both directions.
Let Rikaab Taxi take care of your ground transportation while you focus on the rest of your journey. No doubt traveling by air is stressful enough and you don't need to worry about getting to the airport or getting to your final destination after a long flight.
Rikaab Taxi offers a competitively priced Airport Taxi service open to customers locally and abroad. You don't need to have our bespoke mobile App to make a booking if you are coming from abroad. Simply fill out & submit the details of your trip and we will arrange for a pick-up after landing. Likewise, if you are traveling out of the cities that we cover, we can also arrange a taxi to pick you up for an airport drop-off conveniently day or night.
Our service will be expanding into other cities and airports in the near future. However, we now offer an Airport Taxi Shuttle service for the following airports. Please choose one and make your booking from its dedicated page following the link below for each airport.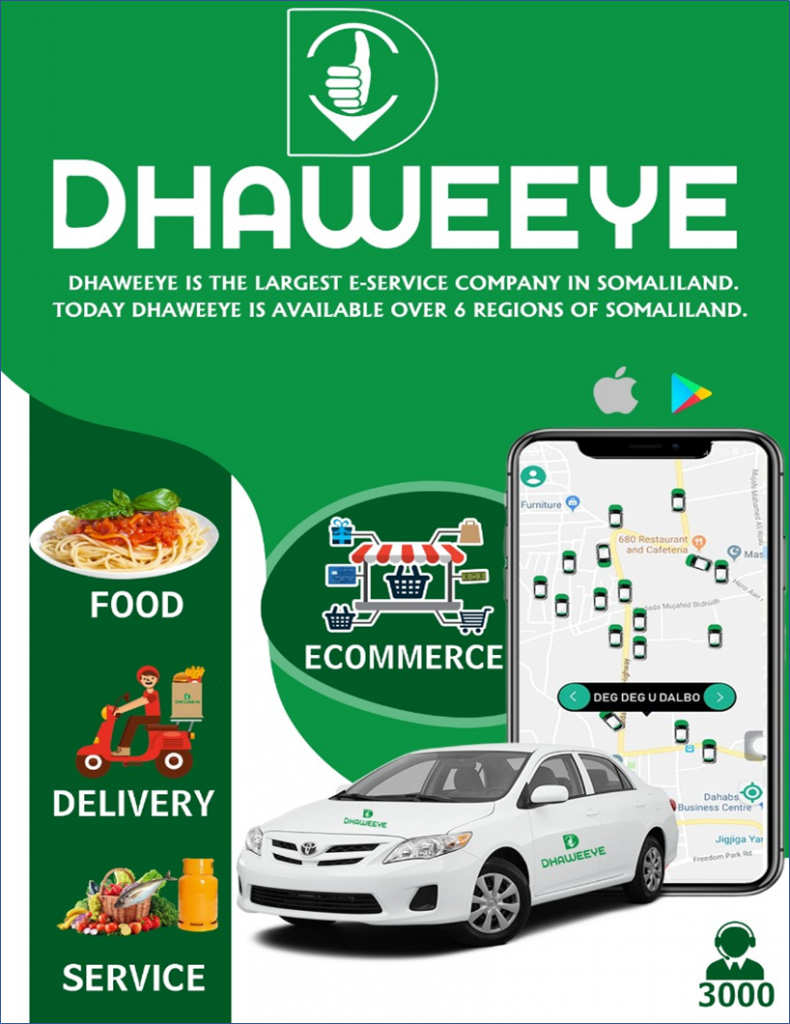 Overview
Dhaweeye E-service company offering services including peer-to-peer ride-sharing service, ride-hailing service, Food delivery service, Gas delivery services, and other express services.
The company was established in 2018 since it has been a leading E- service provider.
We have built a reputation for reliability in the transportation of goods and people, delivering good quality food services due to our professional approach, competitive pricing, and large network. With the quality of service rendered by us, we have become the most preferred E-services company in east Africa. 
Nevertheless, Dhaweeye E-services Company also provides Food delivery services, Gas delivery services, water delivery services, and express services like picking up your phone, key laptop, and other small commodities that you forgot your home or other sites.
We attained many rewarding programs and like the Somaliland business of the years in 2019, and we were the first winner of that program.
And also, we were a part of 36 businesses in Somaliland that are participating in the global get in the ring program held in Somaliland in 2019.
Fortunately, Dhaweeye Company became the winner of the global get in the ring program.
Furthermore, we will be part of the Global get in the ring program face two, which will hold in Canada.
Mission statement
Our mission is to provide a convenient, safe, professional, and modern transportation service to our customers in the horn of Africa.
Vision statement
Our vision is to positively transform the lives of our customers, by making Dhaweeya Company, the biggest and most cost-effective technology-based e-services company in the horn of Africa.  We believe that this vision would be realized by offering the most technologically convenient modern taxi and the best delivery e-services like food, gas, water, and other express services in the horn of Africa.