Mogadishu Proves to be the Fastest Growing City in Africa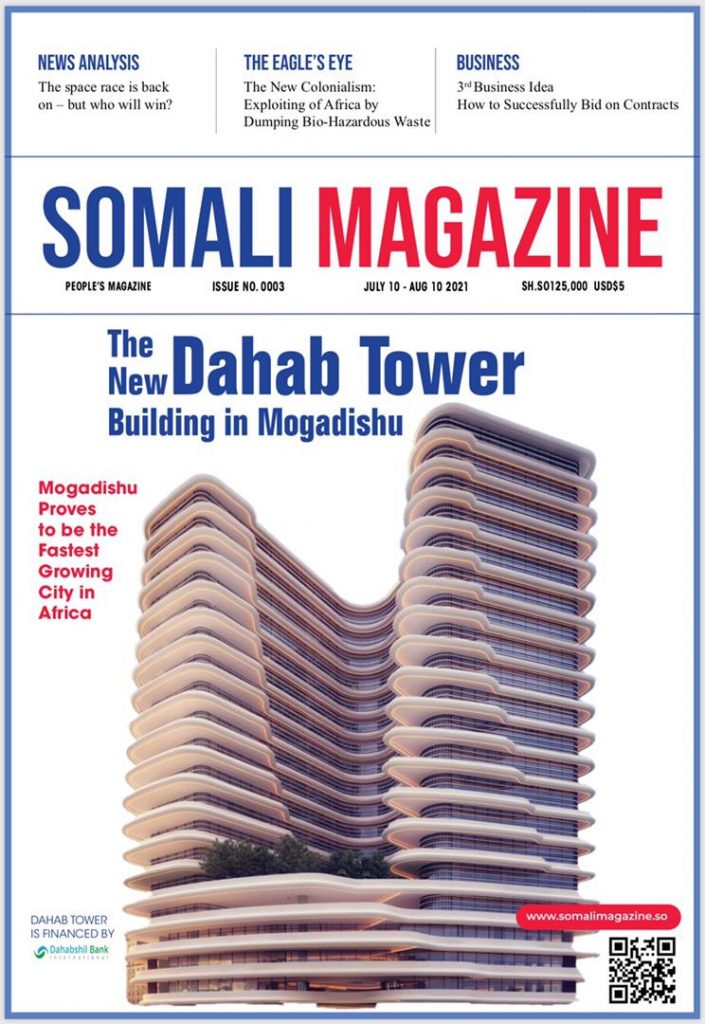 DAHAB TOWER
Dahab Tower is a new High rise mixed-use building project by Dahab Real Estate a Subsidiary Company of Dahabshiil Group, The building consists of a shopping mall, office apartments, residential apartments, a gym, sauna, saloon, a reserved floor for prayers (Mosque) and a secure parking yard.
Established in 2021, Dahab Real Estate is the real estate company of choice for residential developers as well as property investors. Dahab Real estate envisions having a strong presence in all the five regions of Somalia and regional countries.
Dahab Tower Financial Partnership with Dahabshil Bank
The role of Dahabshil bank towards Dahab-tower is twofold,  firstly, the bank will offer a full shariah-compliant loan facility to any customer who wishes to buy apartments,  Offices, or shops of his/her choice.  If the customer is new to bank, it  will consider its application and make investment as best as he will.  The duration will last up to five years upon handover of the property. If a customer makes a prior booking by advance payment with the intention to complete the repayment in a flexible time, the bank will provide a loan with an installment payment plan of up to five years after being handed over the property.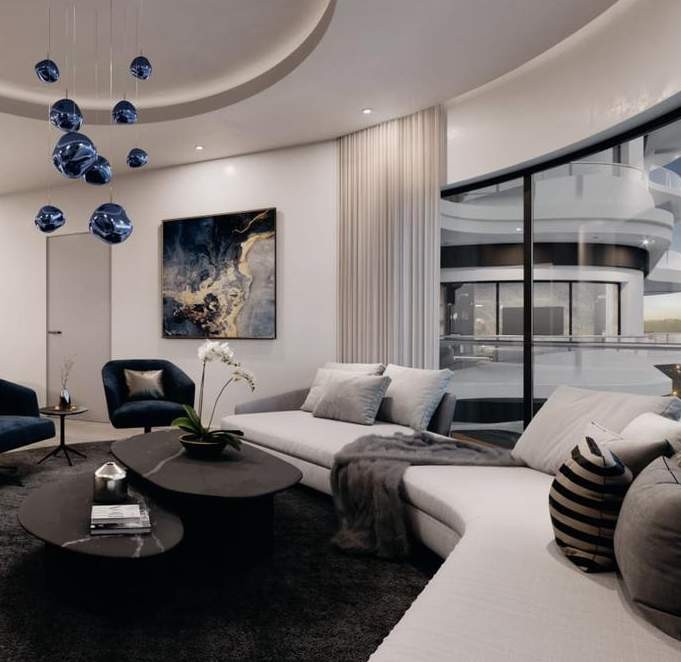 A Rare Vision
Inspired by the effortless hum of life in this iconic building, Dahab Tower has been crafted with passion, artistry, and timeless style. it's the central location and visibility call for a contemporary design that makes a statement while complementing the architectural landscape.
Limitless Life Style
From the grandeur of its architecture to the impeccable beauty of its interior, there is much to admire about Dahab Tower. Situated in the heart of Mogadishu, Dahab's shimmering tower will fuse a variety of residences, office suites, a shopping mall on the ground floor, two floors of Bazaar Shops, and the convenience of having the best of Mogadishu on your doorstep
Signature Retail
Enjoy Dahab Tower's buzzing retail offering, providing residents and the local community with a mix of gourmet dining, cafes, fast food, health and beauty services, and convenient shopping. The retail offering will enhance Dahab Tower's street presence and complement the ground floor lounge as a vibrant, socially interactive place to meet, greet and gather.
Opulence Residentials
With a choice of two and three-bedroom apartments, Dahab Tower showcases harmoniously blended spaces and is an excellent place to create a home that embraces imagination, innovation, and originality. Each apartment features light-filled living spaces. The stylish kitchen, with extensive stone benchtops, comes equipped with premium appliances, high-quality fittings, and finishes throughout, presenting a stunning backdrop to a beautiful life.
Artful Interiors
A palette with tons of sand infused with a muted grey and subtle shades of tan echoes the inspiring surrounds of the African sky as the sun grazes the horizon.
A combination of warm oak effect floors, muted dark cabinetry, and marble effect bathrooms are woven together in a tapestry of elegant detailing showcases the supreme quality and craftsmanship that elevates Dahab Tower to an unmatched level of Distinction.
The Shops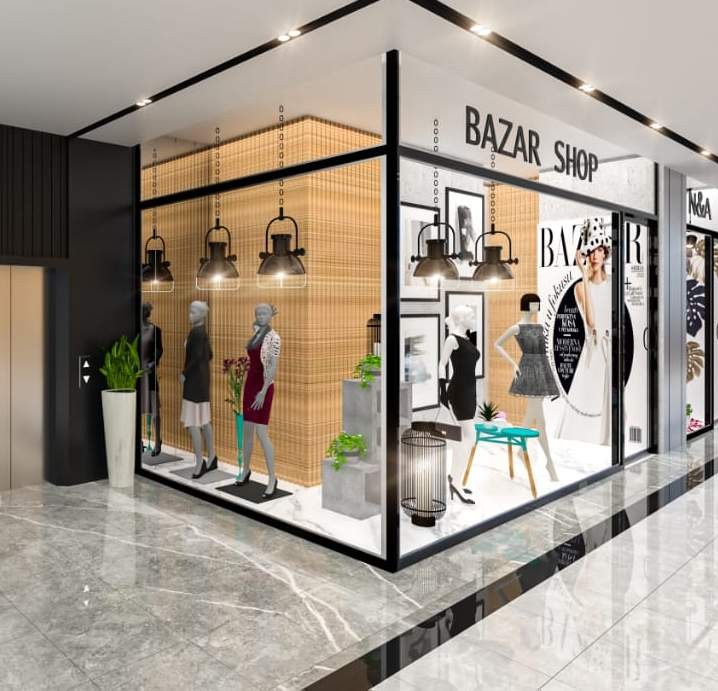 Blending the classic with the contemporary, Dahab Tower's Souk, the "sailor's market", is a step back in time to the wonder and allure of old Arabia. Dominating the 6th and 7th Floors of Dahab Tower, it is enchantingly Arabesque – a lively marketplace that offers the tower's residents and visitors alike a captivating experience of shopping, entertainment, and dining.
A Life of Privilege
Dahab Tower Office Suite is a Class A office space with double glazed windows with UV protection contribute to Dahab Tower's iconic aesthetics as well as tempering harsh glare, and letting in soft soothing filtered light instead. High ceilings enhance the feeling of space, while an abundance of high-end amenities includes a meeting hall with full conference facilities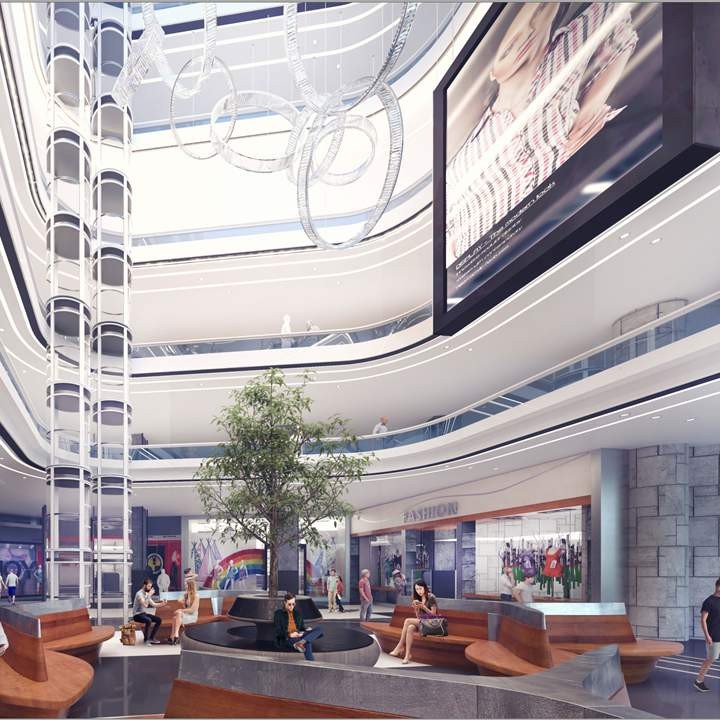 Rare Catch for a Discerning Investor
As a Dahab Tower property owner, you have the opportunity to take advantage of an exciting investment opportunity being made available in Mogadishu for the first time. The unparalleled quality and exclusivity of Dahab Tower, guarantees you a high occupancy rate throughout the year, giving your investment great value.
Somali Magazine had an interview with the head of Marketing, PR, and Sales for Dahabshil Real Estate, and this is what he had to say about the new Dahab Tower Project
Tell us about yourself and what is your role in Dahab Tower project?
Thank you. I'm honored. My name is Ahmed Esse. I am the Head of Marketing, PR, and Sales for Dahabshiil Real Estate.
What inspired you (as a company) to come up with such an initiative?
Well, every great city on this planet is built by its people.  As you are aware, our country is recovering from years of instability, so there is always hope of rediscovering what we are meant to be and aspiring towards the highest living standards. . All this is possible with new ideas and new initiatives. 
With regard to Dahabshil Bank International, we have been supporting our community over the past three decades. It's indeed our obligation to contribute to the redevelopment of our cities and the entire country. That's why we chose to implement this kind of innovation. Hopefully, this would be captured in history and seen in many years to come as a great landmark in Mogadishu.
Once the project is finalized, how do you plan to manage it?
A management company will be set up fully owned by the buyers. The management company for the first 5 years will be led by Dahabshiil Group and will ensure that the property is kept in good condition.
All the communal areas will be the responsibility of the management company. Be it cleaning, security, repairs, and overall maintenance. Each owner will pay a small service charge to the Management company every month for the upkeep of the building.
If it's for renting or selling what is the process for purchasing?
Everything is for sale.  The customer can acquire a unit by a payment plan of up to 7 years. The customer is also required to meet 10 % booking fee upon purchase, and a further 30% within the construction period in 9 equal quarterly installments. The remaining 60% will be paid monthly over 5 years.
How do you think this project will impact Somalia?
This project will impact Somalia economically well as enhancing people's standard of living. There are ample opportunities for investment, and also providing people with conducive real estate.
Can you tell us exactly when the project will take off and when will it be finalized?
The Project will officially take off on 1st October and it will be finalized within 30 Months. That's around two and half years
What should be expected once the project is finished?
Mogadishu will be beautified with one of the modern architecture in Africa. Hopefully, that would be the beginning of a new era for Mogadishu and for Somalia in General. It's our dream to make this city the Iconic city of Africa with modern, standard, and iconic buildings.
Is this a one-time project or you intended to implement more projects?
Yes, we are planning to do multiple projects in the future under Dahabshiil Real Estate not only in Benadir but across the Horn Region.
State of the Art Building
Total Energy Management System
High Performance Glazing
Energy efficient modern HVAC system
LED Sensor driven lighting system
Modern Sanitation & Treatment Sewerage Plant
Grey water & Black water treatment plant
Basement parking system
More than 220 Parking bays
Smart Building
5G Ready
Predictive maintenance System
Security
AI led security system, modern barrier technology
Payment Plan
The Dahabshil Double Deal
The role of Dahabshil bank towards Dahab-tower is a double approach, 
First, the bank will offer full loan facility to customers who wish to buy apartments, Offices or Market position according to their purchase power or prior history of payment. If the customer is new to the bank, we shall consider his application prior to the approval of the investment plan.  The duration will last about five years.
Second, if the customer made a prior booking,  paid advanced payment, and intends to complete payment in flexible time, the bank will provide a five-year payment plan in which Dahabshil bank will offer an affordable loan to the customer for a flexible payment process. 
Dahab Tower Apartment Payment Plan
Dahab Tower Offices Payment Plan
Dahab Tower Souk Payment Plan
Dahab Tower Grand Floor Mall Payment Plan
Typical Mall-payment plan-schedule